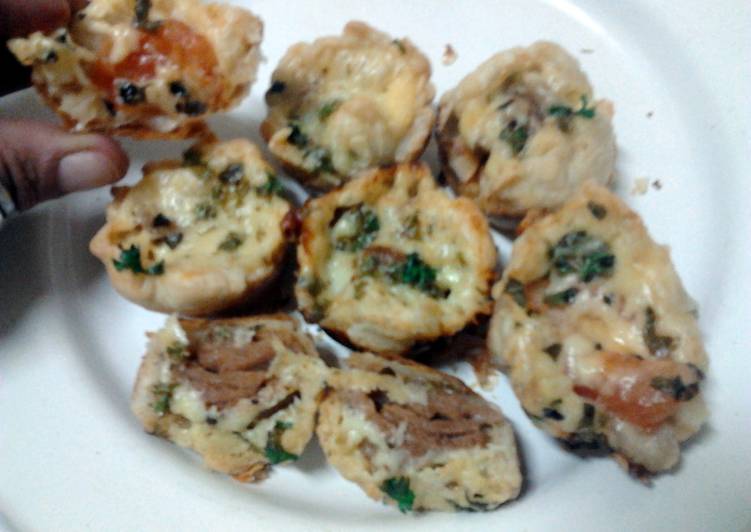 Amy's Puff Pockets ..
Ingredients of Amy's Puff Pockets .
You need 1 of sheet puff pastry = 9 little pockets.
Prepare 1 small of tomato – thinly sliced and then quartered.
Prepare 1 of cooked sausage – thinly sliced.
You need 1 cup of grated cheese of your choice – i used extra tasty ..
You need 10 of garlic chive leaves – finely chopped.
Prepare 5 of sprigs of origano – brake off and tear up leaves roughly.
You need 9 of sweet basil leaves – roughly tore up.
You need 1 of handfull parsley – roughly tore up.
Prepare 1 of olive oil.
You need 1 of salt and cracked pepper to taste for seasoning.
Amy's Puff Pockets . step by step
Preheat oven to 200°C \ 400°F ..
very lightly grease little patty cake tins with olive oil ..
lay pastry out on a lightly floured surface and cut the pastry lengthwise into thirds , then cut each third into thirds again resulting in 9 little pastry square shapes . gently place one piece of pastry per patty hole and gently push down to the bottom and along the sides , fill all patty tin holes with the pastry ..
Starting with the first three pockets , add a few pieces of the thinly sliced sausage on the bottom followed by a few pieces of the tomato quarters on top of the sausage , now sprinkle generously on top of the tomato with cheese and season with salt and cracked pepper and finally add a little of the parsley , oregano , chives and one sweet basil leaf each pocket , now fold any remaining pastry over top to sort of close it and lightly brush top with olive oil ..
in the second three it did the same process except minus the sausages . and the finally three was sausage and cheese minus the tomatoes ..
once all have been filled and prepared place patty tray unto the oven and bake for about 15 minutes or until golden and crisp , remove from heat , let cool for a minute then remove pockets to serving plate , make great little snacks , eat hot and enjoy . :-).
NOTE : you can add any filling you like to these little treats , this is just the way i made them last time . :-).